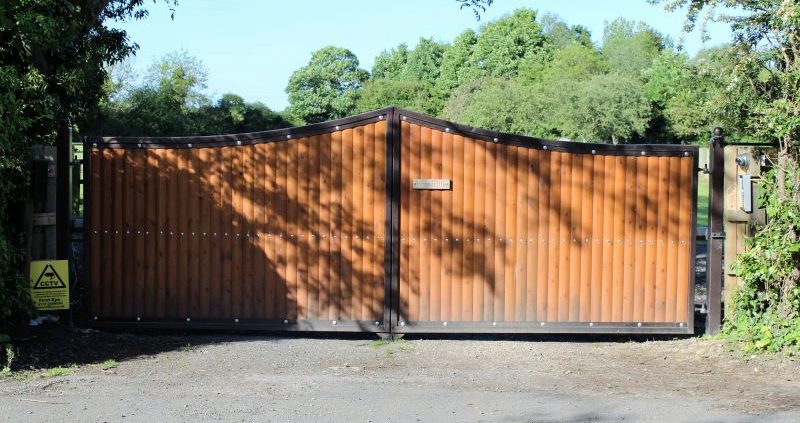 Electrical gates installed in Leeds by FirstEye
Electric gates offer a range of security benefits and in the majority of cases, they are installed for security reasons. Designed to provide a robust and highly visual deterrent to car thieves, burglars and vandals, electric gates are the ideal way to ensure your home or business premises is protected around the clock.
Close your gates from the comfort of your car
Traditional wrought iron or wooden gates which have been left wide open are, unfortunately, an all too common site. The irony is that although the majority of gates are installed for security reasons, closing them involves getting out of the car which is not ideal when the weather is wet or whilst it's dark. This is where electric gates can prove invaluable as thanks to automated closing, they can be easily closed using a remote control designed to be kept in your car.
Electric gates installed in business car parks can be easily opened and closed in a similar way using a range of entry systems, from number plate recognition through to key pad access or remote control.
The ideal solution to unwanted traffic
If your driveway or businesses' car park is open onto a busy street or in a high-traffic area, you'll be all to aware of the frustration caused by other drivers using your property as a turning circle, or parking on your premises. This is also easily resolved by the electric gates which can, in addition, provide an effective way to safeguard children or pets.
Electric gates designed for businesses
Whether your business is office based or in the industrial, manufacturing or commercial sectors, the installation of security gates offers a highly effective way to protect your premises. Electric gates will not only let you control who has access, but can also be used to protect your employees' cars from thieves and prevent unauthorised parking.
Choosing the best electric gates for you
The most appropriate type of electric gate for your property or business premises will depend on a wide range of factors. Here at FirstEye we have many years of experience in installing electric gates, bollards and barriers in homes and business premises of all shapes and sizes and we'll work closely with you to find the best solution for your budget and requirements.
Our quotes are available free and without obligation so why not get in touch today to arrange an appointment?
https://www.firsteye.co.uk/wp-content/uploads/2017/07/IMG_0113.jpg
533
800
eyedmin1st
/wp-content/uploads/2018/06/logo-new.jpg
eyedmin1st
2018-04-03 11:59:55
2018-03-14 12:02:07
Electric gates designed to keep intruders out and safeguard your property