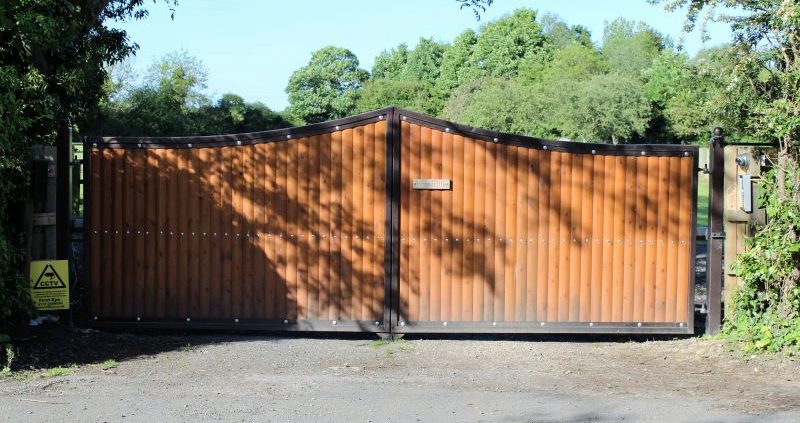 Electric gates and vehicle security posts installed in Leeds by FirstEye
Designed to add an enhanced level of security to your home, electric gates offer a great way to control who has access to your property. In addition, when installed in conjunction with an intercom system, electric gates provide stylish looking security which will enhance the look of your home.
Not only do electric gates look good, they also offer an important way to secure your home whilst deterring any would-be intruders. Here at FirstEye we install the three main gate types which are suitable for domestic properties: sliding gate openers, articulated gate arms and swing gate arms. All of the gates we install are controlled by either remote fob or keypad entry and we have the expertise to fabricate gates in a design which is made to suit your individual property.
Here's some information on the benefits each type of electric gate can offer:
Sliding gate openers:
Offering exceptional wind resistance, sliding gate openers are almost impossible to force open, making them the most secure type of electric gate. Sliding gates are designed to be opened fully for vehicle access, or partially for pedestrian access. However, they do require a full gate width alongside the gate opening and so aren't always suitable for narrow driveways.
Articulated gate openers:
Articulated gate openers need large gate posts to fix them too and are an excellent choice for wooden gates because the pressure needed to open the gate is provided by the post and not the gate. We have the expertise to install brand new gates with articulated openers, to to convert an existing gate.
Swing gate openers:
Swing gate openers are available in two main types: underground systems and gate back arms. Not only are underground openers discrete as there's no unsightly mechanism on show, they're also highly effective. However, they do need to be fitted at the same time the gate is installed, making them best suited to installation which are carried out as part of a new build, renovation or refit project. Swing gate openers use hydraulic or corkscrew arms and can be fitted to convert an existing gate, or whilst installing a new gate. Corkscrew gates are best suited to light or medium weight gates whilst heavier gates will require the power provided by hydraulic arms.
Get in touch to find out more about the benefits of installing electric gates
If you're looking for a security solution which will enhance the look of your home, electric gates offer the perfect solution. Secure, safe, easy to use and install, security gates are becoming increasingly popular with homeowners. If you'd like to find out more, or to obtain a free, no-obligation quote, please get in touch by calling 0113 228 8599 or email quote@firsteye.co.uk
https://www.firsteye.co.uk/wp-content/uploads/2017/07/IMG_0113.jpg
533
800
eyedmin1st
/wp-content/uploads/2018/06/logo-new.jpg
eyedmin1st
2020-02-24 11:21:59
2020-02-24 11:24:51
An open and shut case: discover the benefits of installing electric gates