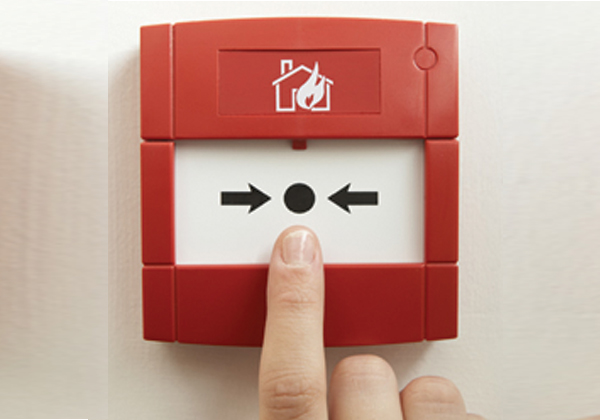 The tragic fire at Grenfell Tower at London has proved to be a sad and shocking reminder of how important it is to have a working fire alarm system. Despite the fact that there are strict rules and regulations surrounding fire protection in high-rise and multi-occupancy buildings, the Grenfell Tower tragedy has demonstrated how fire can devastate a building which isn't adequately protected.
We design and install fire alarms in Leeds
Here at FirstEye we have many years of experience in designing and installing fire alarm systems for commercial buildings and workplaces. Our specialist team understand the complex regulations surrounding fire alarm installation and we'll work closely with you to ensure your premises are safe, secure and protected.
Fire alarm systems protect commercial buildings and workplaces by detecting minute particles of smoke. All fire alarm systems work the same principles; if a heat or smoke detector senses smoke or heat, or a break glass unit is triggered, the alarm will sound to alert the occupants of the building. Some alarms are also designed to alert the emergency services in the event of a fire.
Unique fire alarm systems designed to meet your unique requirements
Every fire alarm we install is designed to meet the unique requirements of each individual client. We also provide a clearly designed commissioning certificate, an installation certificate, plus a fire alarm plan, user guide and a weekly test log book. We can also provide a service and maintenance agreement as required.
Contact FirstEye for further information
As the Grenfell Tower disaster has so tragically shown, fire has the potential to cause devastating loss of life and damage. Rather than taking the risk of a fire, why not ensure your business is protected instead? If you'd like to find out more about our fire alarm installation services in Leeds, why not get in touch today for further information?
https://www.firsteye.co.uk/wp-content/uploads/2017/06/fire_alarms3.jpg
420
600
eyedmin1st
/wp-content/uploads/2018/06/logo-new.jpg
eyedmin1st
2017-10-04 15:04:17
2023-03-16 13:53:32
Don't underestimate the importance of a fire alarm system